Episode 139: Kim Zen's Journey of Entrepreneurship and Empowerment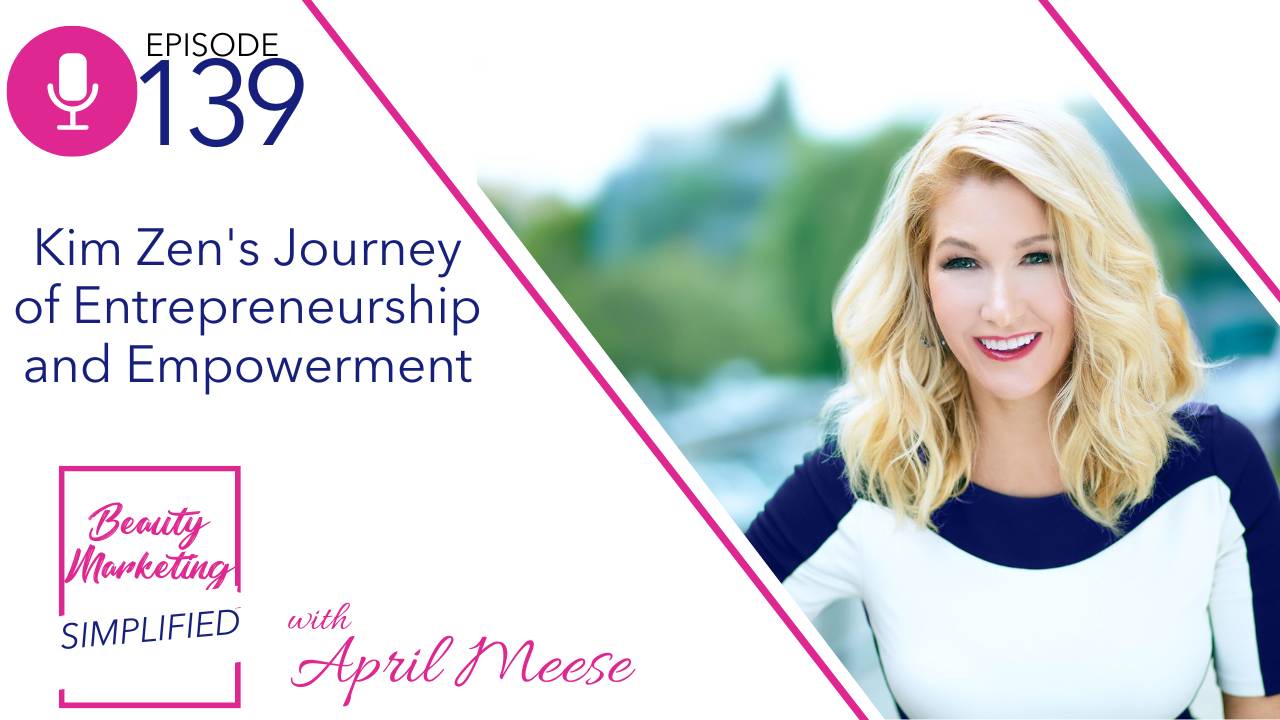 What you will learn from this episode:
Hear about Kim Zen's humble beginnings that gave her determination to succeed.
Learn about how she dealt with the challenges and moments of uncertainty as a beauty entrepreneur.
Discover how to develop more self-assurance and resilience.
Kim Zen is a seasoned beauty professional with over 20 years of experience as a brow artist, PMU artist, trainer, and industry leader. She has traveled the world as an international artist and speaker, judging competitions and sharing her expertise with aspiring artists.
She is also a successful entrepreneur, having founded her own PMU Academy and product line. Her passion for the industry and dedication to helping others succeed make her a valuable asset to the beauty industry as a whole.
Kim's journey began when she started working at a plastic surgeon's office as a receptionist right after high school. She was fascinated by the world of aesthetics and was fortunate enough to be taken under the wing of the doctors, who taught her about wound care, skin, and aesthetics. This experience inspired her to become an esthetician, which opened up many doors for her in the field.
For the last eight years, Kim has focused solely on permanent makeup, and it has been an amazing journey.
In this episode, Kim will share her experience with being a pioneer beauty entrepreneur and the constant struggle to overcome obstacles to grow her business as she scales with new beauty ventures. Despite the difficulties, she continues to persevere and grow as a person, citing her past experiences as the foundation for her present-day confidence in tackling new challenges.
Topics Covered:
00:57 - Kim Zen's introduction
02:36 - The 60 seconds backstory of getting started
04:31 - Becoming a beauty entrepreneur
06:06 - Challenges that molded her into the person she is today
08:17 - Her marketing strategy that drove clients into her beauty business
10:19 - The sign that she is ready to take on new challenges
13:05 - Industry mistakes
16:57 - What does it take to be successful?
19:13 - Kim's advice on how to focus and avoid distraction
21:05 - The struggles in finding good team members
24:20 - Things she wishes she had done at the beginning of her career
26:32 - Top characteristics to be fierce
28:09 - Her upcoming events and socials
Key takeaways:
"I know what I was lacking when I got trained and I wanted to give back. And I've always wanted to help others too, just to have a better experience and because I knew what I was missing. So, when I had the opportunity, I dove in. Because I knew I could make it better." - Kim Zen
"My passion is to really help others, because I know I've been there. I wanted to quit because I didn't have the guidance. And so, I think that's why I'm so passionate about what I do. And I wanted to create a space for other artists like me, that were struggling or that wanted guidance." - Kim Zen
"It really takes a lot of dedication and discipline. Because you're going to have those challenges that want to throw you off the path. So you really have to have a strong why, like, what is your ultimate? Why? Your reason. I think motivation only can't take you so far because that disappears along the way, but you really have to have that real discipline and commitment." - Kim Zen
I think you really have to prioritize, and really write down and have a schedule, set to delegate certain hours for this, because I mean, with life and everything, it's so hard to just get distracted. I have to definitely prioritize and write it out and have it all laid out for the week, or I will completely forget and get distracted." - Kim Zen
"You do need to take your time, which people don't want to do. I always say people hire when they're already past, like you're already in the weeds, so to speak. You're already overwhelmed and you're just like, you want somebody just to take it, like take all of this and make it better and you don't have time to teach them. You don't have time to really set them up for success, which makes it challenging because you didn't slowly hire. You tried to just get somebody in there to be a mind reader and do it all." - April Meese
Stay connected with news and updates!
Join our mailing list to receive the latest news and updates from our team.
Don't worry, your information will not be shared.
Subscribe